Nick Whitman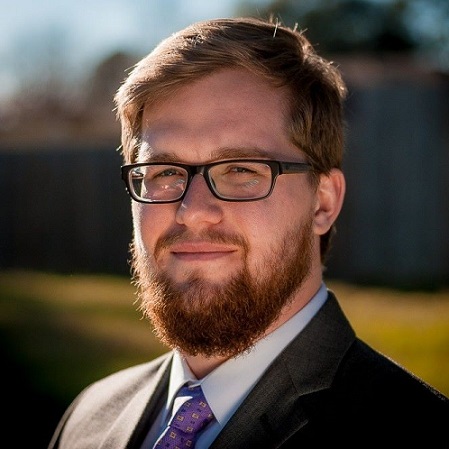 Email: whitmann@oregonstate.edu
I am a second year graduate student pursuing a Ph.D. at Oregon State University under the direction of Todd Palmer. I received my B.S. in Nuclear Engineering from Texas A&M University in May of 2016. My previous work and research has been primarily related to the neutronic modeling of special purpose nuclear power systems. Additionally, I have contributed to characterization and analysis work related to the radiation environment in the Fuel Ringed External Cavity (FREC-II) at the Annular Core Research Reactor (ACRR) at Sandia National Laboratories.
---
Research
Lithium Aluminate is a ceramic breeder material that is of interest in the fusion community. Lithium Aluminate drastically changes microstructure and porosity as a function of neutron irradiation. These parameters directly impact the thermal performance properties of the ceramic. Certainty in thermal performance parameters is necessary for accurate and reliable modeling. The current fuel performance tools used by PNNL do not agree well with experimental data. Due to phonon transport being the primary heat transport mechanism in ceramic materials, Oregon State University and PNNL have partnered to develop a higher-fidelity mechanistic model based on phonon transport to approximate the thermal conductivity tensor in irradiated Lithium Aluminate. This model will eventually depend on the material microstructure, vacancy densities, defects and various other parameters that highly impact heat transport at the macro to micro-scale.
Currently we are developing a method to solve the Boltzmann Transport Equation using the Second-Order Self-Adjoint Angular Flux (SAAF) discrete ordinates (SN) formation in Finite Elements with the option of using curvilinear and non-uniform meshes.
---
Publications
N. WHITMAN, T. HUGHES, J. KELSEY, A. MORELL-PACHECO, and P. TSVETKOV, "VASIMR® Interfaced High Temperature Gas-Cooled Fast Reactor for Space Applications", Trans. Am. Nucl. Soc, 115, 80-83 (2016).

N. WHITMAN, B. COX, "Characterization of the Pulsed Radiation Environment in FREC-II at the ACRR", Trans. Am. Nucl. Soc, 115, 1074-1077 (2016).

N. WHITMAN, P. MCCLURE, D. POSTON, "Modeling and Analysis of the BUK/RES-5 Fast Reactor Using MCNP". LA-UR-15-25998, (2015).
---
Presentations
---
Work Experience
Pacific Northwest National Laboratory

Nuclear Engineering Division - Nuclear Fuels and Materials Team, Mentors: Doug Burkes & David Senor, June - September 2017

Performed preliminary scoping analysis to determine best approaches to model phonon transport in optically thick and purely scattering media like that of Lithium Aluminate. It was found that the Method of Characteristics fails under non-uniform meshing and requires too much computational means to resolve the correct solution in the purely-scattering limit. Further investigation into methods that are more applicable are underway.

Los Alamos National Laboratory

W-13: Advanced Engineering Analysis, Mentor: Bradley Cox, May - September 2016

Performed experiments to compare computer models to active and passive dosimetry measurement data in the Fuel Ringed External Cavity (FREC-II) at the Annular Core Research Reactor (ACRR) at Sandia National Laboratories in order to assist in preparation for the Depleted Uranium Strain and Temperature - Enhanced Response (DUSTER-II) test series

NEN-5: Systems Design and Analysis, Mentor: David Poston, June - August 2015

Researched and developed a reactor model for the Russian BUK/RES-5 liquid metal cooled fast reactor used in reconnaissance satellites during the Cold War era
Used MCNP to confirm reported fuel loading, total mass, uranium content as well as several reactor parameters such as control drum insertion worth. ***
Personal interests
Hiking, mountain biking, golfing, guitar, repeatedly binge watching The Office
---